Fave Artwork!
So dunno really if this is exactly on-topic, but if so, let's get the ball rollin'! Post your favorite Kemo artwork in this thread, let's share some nice Kemo Pics! I'll start with this cute pic of a character named Hung I found in twitter! (If this isn't an appropriate topic or such feel free to remove it, yea!)
Topic starter
Posted : 03/09/2021 10:10 pm
I have seen Hung before and love him!
Two pics that get me over the edge every time. I have a huge thing for foreskin and night shirts and femboys.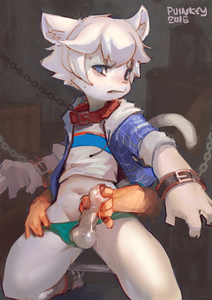 Posted : 03/09/2021 10:14 pm
Same!! I love him hehe, and that's so niceee!! I also have a few pics that get me so hard like a rock as well, lemme search em~! and honestly! those are amazing tbh, I LOVE foreskin so much and femboys are nice too!! I also have a huge thing for cubs too...!
Topic starter
Posted : 03/09/2021 10:21 pm
Posted : 04/09/2021 9:32 pm
So hot <3 I have a less censored version of vest boy there below. I am a huge Senpai fan and have never seen that pic before! I'll add it to his page <3
Posted : 05/09/2021 10:49 pm